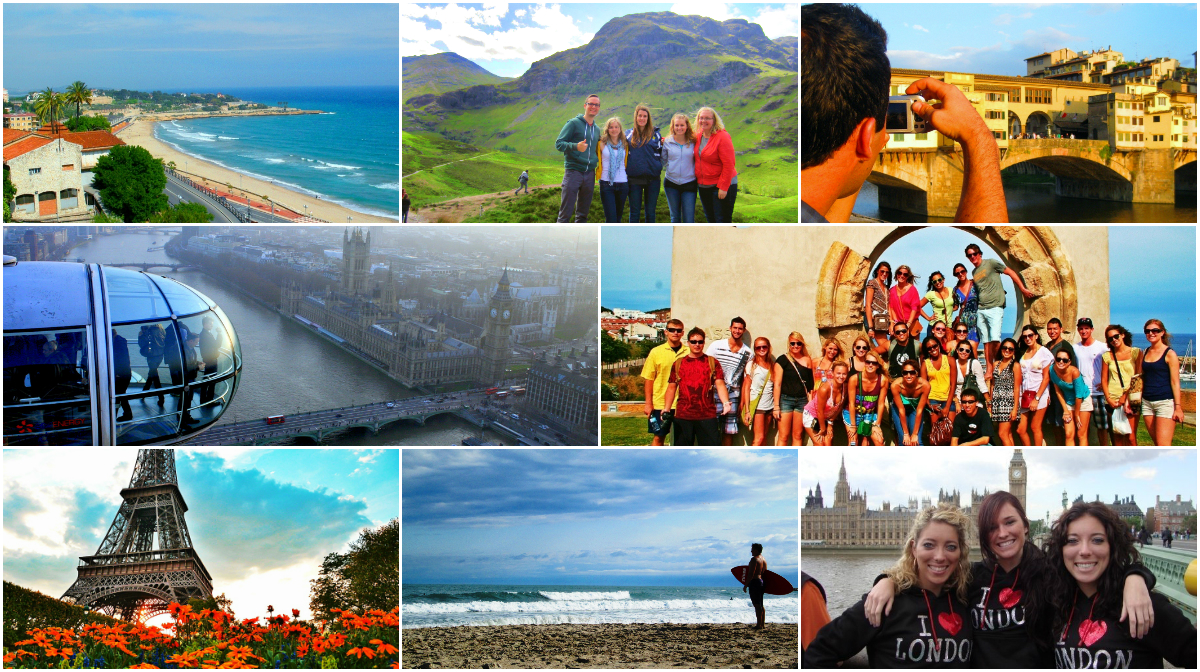 For students looking for a bit more travel with their European study abroad program, CISabroad provides a unique way to visit several countries throughout the course of a summer. The study abroad organization's set of multi-country summer study abroad programs, the Discover Europe! Summer Series, allows students to spend time in as little as two or as many as four countries in a six to 10 week period. Students will be able to immerse themselves in the cultures of countries such as France, Spain, Italy, England, Ireland and Scotland, while studying subjects like art, film, history, literature, and language. Highlights of some of the programs include touring through scenic countrysides, experiencing the nightlife of thriving cities like London, Barcelona and Paris; studying the works of some of the most influential artists in history, and getting the rare opportunity to spend an extended period of time in several very different European hotspots.
"The European Experience [Ireland, Scotland, England, and Spain] is absolutely the best way to experience multiple countries during the summer," said Stacey C., a previous Discover Europe! participant in the European Experience program. "You meet new people when you arrive and you can stay friends and most of them throughout the whole experience along with meeting new people along the way. There're so many excursions that you get to go on and a lot of free time to explore at your own leisure. It is truly amazing to explore all the cultures of these countries, learning and taking your classroom outside by having hands-on learning. It is a great opportunity to have. There are so many historic monuments, museums and famous sights to see and you can pretty much visit it all."

The Discover Europe! Summer Series offers eight unique programs, each of which revolves around a certain theme that aligns with the locations visited:
Summer in the British Isles: Ireland, Scotland, and England
- Travel through the Irish and Scottish countryside and study in the heart of London.
- 9 credits in 6 weeks
European Experience: Ireland, Scotland, England, and Spain
-After your adventure in the British Isles (this is an extension to the program above), spend a month in Spain learning Spanish and losing yourself in the vibrancy of Barcelona!
-15 credits in 10 weeks
The Grand Tour: Rome, Florence, Paris and London
-Learn and live art as you follow in the footsteps of the Masters, on this modern day version of the original study abroad program for the elite of European society.
-15 credits in 9 weeks
Film and Art Spectacular: London and Paris
-Explore and experiment with art, cinema, and film in two world-class capitals.
-12 credits in 8 weeks
Gaudi to Monet: Barcelona and Paris
-Focus on the languages and cultures that gave rise to some of the most influential artists the world has ever known.
-12 credits in 8 weeks
Heart of the Renaissance: Rome, Florence and Paris
-Live in these Renaissance cities and learn about their art and history through the eyes of the Masters.
-9 credits in 8 weeks
Mediterranean Culture: Rome and Barcelona
-Learn how the past influences modern life in these important cultural centers and their surrounding towns.
-12 or 15 credits in 8 weeks
City Expeditions: London and Barcelona
-Get immersed in these world-class cities through coursework and excursions that bring the classroom to the city.
-12 or 15 credits in 8 weeks
In order to showcase each of these unique and engaging multi-country summer study abroad programs, CISabroad has created a Discover Europe! Summer Email Series. These emails include detailed information about each of the eight programs, student blogs from CISabroad participants who are currently enjoying their time abroad, program videos that include interviews with current students and faculty; and application deadline reminders.
In keeping with their commitment to make studying abroad as affordable as possible, CISabroad is also running a Discover Europe for Yourself Sweepstakes, offering a $500 discount to one of the Discover Europe Summer Email Series subscribers. For details and a chance to save $500, please visit the Discover Europe for Yourself Sweepstakes page.
About CISabroad:
CISabroad is a study abroad organization committed to providing affordability, support, cultural immersion and academic relevance to its study abroad and intern abroad participants. CISabroad offers summer, semester, May Term, January Term study and intern abroad programs in 19 different countries around the world. You're going places with CISabroad! For more information, please visit www.cisabroad.com.