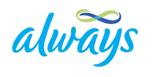 The Procter & Gamble Company
One P&G Plaza
Cincinnati, OH 45202
FOR IMMEDIATE RELEASE
Always® Launches "Always Me," a Customized Period and Ovulation Mobile App with Timely Support and Advice
CINCINNATI, OH, (November 9, 2010) – Be it her first day in college, her first day on the job or her first day as a mom, a woman will inevitably have questions about her feminine health.  She'll want to have personalized, instant information at her fingertips. With an increasing number of women 18 or older seeking health-related information from their mobile phones, Always®, the leader in feminine protection, has created the Always Me™ application – a comprehensive tool to help make life easier for today's plugged-in women.
Now available for free download in the Apple iTunes Store, Always Me is a comprehensive on-the-go, customizable period and ovulation tracker that helps women to manage their cycles, offering timely support and advice. The Always Me application was designed with input from a select group of women-focused Web site editors, bloggers and OB/GYNs.
One of the unique features of Always Me is a personalized question and answer function to address private and intimate female-focused questions.  Users can type in a question related to their menstrual cycle, and a health professional will provide a timely answer within 24 hours.
Always Me users have access to other great features, including:
Comprehensive, interactive tracker and calendar to help manage a woman's period/cycle
Personalized, expert Q&A function for users to submit private, personal questions
"Shop Always" button for discreet, immediate and direct online purchase of Always feminine hygiene products from one's mobile device as well as a store locator
Reminder notifications for anticipated arrival of period or ovulation
Tips on topics ranging from how to better manage one's cycle, health matters, exercise, etc.
Compatible with the iTouchTM, iPadTM and iPhoneTM
"Always Me is an application created for women, by women.  It allows access to information and experts regarding subjects that aren't often talked about," said Courtney Schuster, Always Global Brand Manager. "In an age where our phones connect us to our family, friends and on-demand content, this helps women stay connected with their bodies in a current, customizable way."
Looking ahead, P&G has plans to expand the mobile application to include a wide range of useful information and tips for various aspects of a woman's life, including skin, hair and beauty care – areas that can be affected during a women's monthly cycle.  Always Me will continue to evolve as a resource for women, and consumer ratings and feedback will influence upgraded versions.
About Always Me
The Always Me mobile application is an on-the-go, customizable period and ovulation tracker that helps women to manage their cycles and offers timely support and advice. It is available for free download in the Apple iTunes Store and compatible with the iTouchTM, iPadTM and iPhoneTM.
About Always
Always®, the world's leader in feminine protection, offers a wide range of feminine pads, wipes and pantiliners designed to fit different body types, period flows and preferences.  The Always line of feminine products includes Always Infinity™, Always Ultra Thins, Always Maxis, Always Pantiliners and Always Feminine Wipes.  Please visit www.always.com for more information.
About P&G (NYSE: PG)
Four billion times a day, P&G brands touch the lives of people around the world. The company has one of the strongest portfolios of trusted, quality, leadership brands, including Pampers®, Tide®, Ariel®, Always®, Whisper®, Pantene®, Mach3®, Bounty®, Dawn®, Gain®, Pringles®, Charmin®, Downy®, Lenor®, Iams®, Crest®, Oral-B®, Duracell®, Olay®, Head & Shoulders®, Wella®, Gillette®, Braun® and Fusion®.
The P&G community includes approximately 127,000 employees working in about 80 countries worldwide. Please visit www.pg.com or the latest news and in-depth information about P&G and its brands.
###
Contact:
Jessica Hersh
MSL New York
(212) 468-3867
jessica.hersh@mslgroup.com
Velvet Gogol Bennett
Procter & Gamble, External Relations
(513) 634-5576
gogolbennett.vc@pg.com