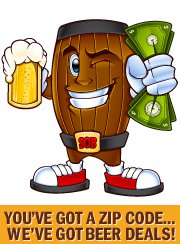 Houston-based SaveOnBrew.Com releases a free mobile application to find lowest advertised beer prices by zip code.
HOUSTON, February 27, 2012 - SaveOnBrew, the world's only beer price-search engine, announced the release of the mobile version of their web site.
Now iPhone and Android users will have a version of the popular web site optimized to their platform and automatically displayed when they visit. "People have been asking for a mobile version since the site went live back in 2010," said Greg Thibodeaux, founder and CEO. "Especially college students. That's why we've opted to give away the mobile version free of charge. These are tough times and hopefully everyone can save some money on one of the world's most popular adult beverages."
"Our default sort is lowest price per beer, but we've included all of the features from the full version of the web site including the ability to sort on packaging and brand, as well as filtering to craft or import beers, if that's your thing," said Thibodeaux.
After finding their favorite beer, deal-seekers can drill down for details. "Everything you need to find the best beer deals is at your fingertips," said Thibodeaux. "We provide a map to the retailer and even show you other beers on sale at the same location. We've also added in all of the latest social features so that you can share the great deals with your beer buddies."
"We scour the internet for advertised beer deals," said Mark Davidson, co-founder and COO. "We like to think that if a beer deal is electronically advertised, we have it. Our data is not crowd-sourced and at any given time, there are between 250- and 300 thousand advertised, live, deals in our database from about 50,000 vendors. We're adding more stores almost daily."
Mobile users will automatically be directed to the mobile version of the site when visiting www.saveonbrew.com and a video introduction to the mobile web site is available on the SaveOnBrew blog.
About SaveOnBrew.Com: Founded in 2010 to help thirsty beer drinkers across the United States find the lowest advertised prices for one of the world's most popular beverages.